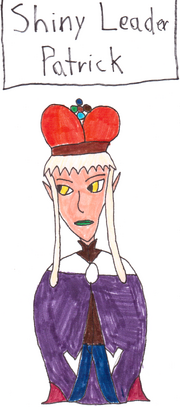 Team Shiny
is the evil team in
Pokémon Shiny Grey
. It first appeared in the
Animal Crossing LP
.
In the Animal Crossing LP, EasternMoney128 played a female character, which she named "symbol of a bag of Bells (Bell) symbol of a fish (Fish), symbol of an umbrella (Umbrella). In Episode Five, "Team Shiny", she revealed that Bell Fish Umbrella was a member of the titular team. Later, EasternMoney128 decided to make a fangame based on Team Shiny. To this end, after posting some low quality sprites on Facebook, she started posting images of the Fakemon involved.
What is Team Shiny?
Edit
Team Shiny is an evil team dedicated to making all Pokémon shiny. To this end, they perform genetic experiments on Pokémon, while silencing all those who oppose them.
Leader (King)
Edit
Admins (Queens/Bishops)
Edit
Grunts (Knights)
Edit
No grunts have names.
Scientists (Rooks)
Edit
Aides (Pawns)
Edit
No aides have names.