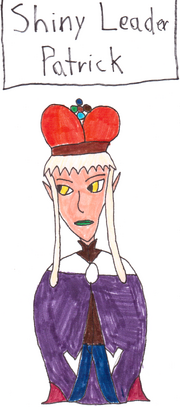 Patrick is the leader of
Team Shiny
. He is secretly a woman named Sanae Fields.
The original art for Patrick was uploaded on deviantArt on October 2 2013.
Backstory
Edit
Sanae Fields was an employee of Silph Co. back when they were making Porygon. She was secretly modding Porygon into an overpowered Pokémon, Virchu. However, Silph Co. was suspicious, & so she was caught by a spy, & summarily fired. She ran to the Kuprys Region, & took on the identity of Patrick, Leader of Team Shiny. He soon got loyal followers, & stormed the Kuprys League, becoming Champion.